Who are the people who shaped these trees? Please let us know and we will do a page with the photos.
This photo was taken by Matt Kvirkland on Flickr.
Who said:- "These opposing-helix ficus trees are a hallmark of one of the specific "Towns" that make up Dongguan. You can see in the background that they line the main boulevards of the town – There are literally hundreds of these lining the main streets in town. Read More
This photo was taken by Circus Dogs on Flickr.
Who said:- "The tree is in a small garden across from El Tule, a large tree in the town of Santa María del Tule in Oaxaca, Mexico."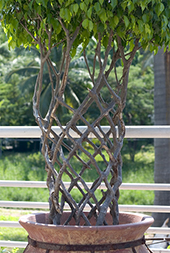 This photo was taken by Jessie Hirsch. Web site is
www.jessiehirsch.com
Who said:-" It was taken on the Rio Cuale island in Puerto Vallarta."